I graduate from high school in less than a month! Crazy, I know. Honestly, I'm 100% excited for what's next. A conversation a few days ago sent us looking back through old pictures, and we found this one. I'm about six years old, wearing as much pink as possible, and holding a videogame guitar. Even back then, music was such a big part of me. Some things just never change.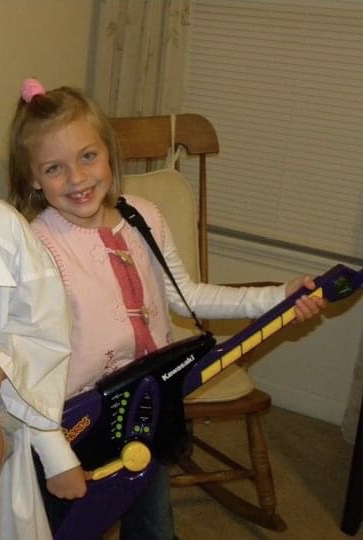 It was my Kindergarten Career Day. I wanted to be a "rock star". I guess I've been pretty consistent with what I want to be.
But here's what blows my mind: around the same time this picture was taken, I gave my life to Jesus. My love for Jesus and my love for music has grown together!
Also, it's cool to me that I chose a guitar to be my prop for that day…even though I wouldn't start playing guitar till almost 10 years later.
I think maybe God had a plan…and He has a plan for you, too! I am so excited to continue watching our stories unfold.